I Find the Love Right Here
Sohodra Dilchand is a Hartford resident of 16 years who acquired a fire-damaged, vacant two-family home in Hartford's Clay Arsenal neighborhood. Hartford Community Loan Fund provided a $170,000 construction-rehab loan to Ms. Dilchand, facilitating the rehab of the historic home.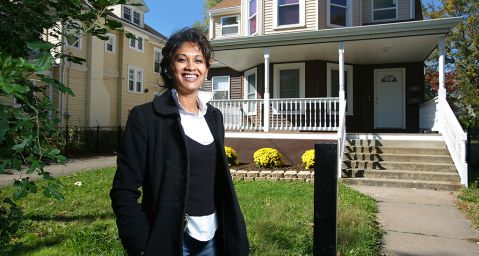 HCLF borrower Sohodra Dilchand in front of one of her renovated apartment buildings
---
I saw the potential in the building, so I bought it and thought later on I'd fix it. I never knew how hard it would be to get a loan. Everywhere I tried turned me down. The house had been sitting there vacant for two years when the city of Hartford sent a letter notifying me that they would knock the building down and send me a bill for thirty-five-thousand dollars! I went everywhere for a loan—including the bank where I have a business account in good standing. But even they wouldn't budge because lending money for a construction rehab project in a neighborhood like this one is too risky for them. And banks like that want your credit to be a certain way and want to make sure that you make "x" amount of dollars.
I had a great team from the Loan Fund...working on my loan from beginning to end.
But finally someone from the city wanted to help me and gave me the number for the Hartford Community Loan Fund. From there everything went nice and smooth. I had a great team from the Loan Fund...working on my loan from beginning to end. Hats off to good people like them. The Loan Fund made the whole process so easy that I feel much more confident thinking about a second rehab project, and I've already recommended them to others, including my mother. The rehab project took six months, and it was done beautifully.
I had a vision for the property. I've been a landlord for ten years. When you do that kind of work, you see women with so many kids. These women would always ask if there was place they could rent with more bedrooms. I thought, "Let me make some mother of so many kids happy." So I set the house up in a way that there are 2 full bathrooms, and when you step out of the bathroom there's the washer and dryer. A mom with a baby doesn't have to go downstairs to do the wash. There's a beautiful kitchen, a full dining room. Kids can have their own section upstairs. If the mom has a lot of groceries she can pull up to the back door and bring them right to the kitchen. I even put the fuse box in her kitchen so if a fuse blows and I'm not around, she can trip it right there without having to leave her babies to fix it.
See, I have a love and a passion for being a landlord. If someone doesn't like to do it, you see it in the property--the grass grows high, the fence falls. But I'm from here. I work here, I live here. I do not invest anywhere else but Hartford. I find the love right here. I want to stay here and provide homes for people. I'm glad there's the Loan Fund that can make it happen, located right here in Hartford too.
---