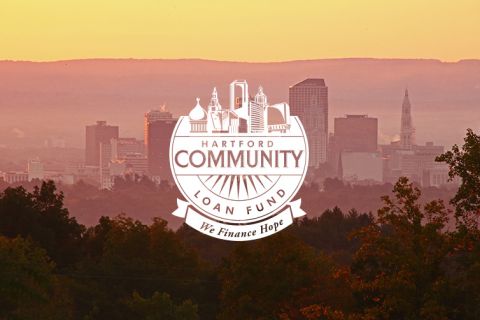 In 2015 HCLF adopted a new logo to use in the organization's communications. Dwight Teal, 27, was born and raised in Hartford's northend and rendered the Hartford skyline in the new logo. "I tried to represent Hartford's most iconic buildings," says Teal
"I tried to represent Hartford's most iconic buildings," says Teal
"I love architecture, and I often go up to the roof of the [Connecticut] Science Center to take pictures of Hartford, so I knew the skyline." Wild Apple Design Group developed the color palette and concept of the new logo, and Teal worked the Hartford skyline into the drawing, depicting the silhouettes of the Colt building, the Connecticut Science Center, the Phoenix building, Travelers, and the "Stilts" building as they would be seen East to West. "The Colt building was tricky—it had to be onion shaped—had to be perfect. I scanned an image I drew and used a computer program to trace over and draw with a mouse and a graphics table. I learned how to do that at a former job. I'm going to return to Manchester Community College to learn more about that," says Teal, who currently works in security at the XL Center and has also been trained to repair bicycles.
Teal has been drawing since he was a child, and remembers his elementary art teacher, Miss Renta, encouraging his interest. "I drew landscapes, houses, cartoon characters—little kid stuff. But she told me to keep drawing. She said to ignore people who said not to do it or who try to bring you down." Artistic talent also runs in Teal's family—his aunt Florine Teal Jackson was a Hartford artist who exhibited at the Wadsworth Atheneum in the 1970s.
One of Teal's greatest fans and supporters has been Jackie Allen-Doucot, a neighbor and fellow artist from the Hartford Catholic Worker who has known him since he was a child. "Dwight has been mentoring young people from our neighborhood for over 10 years as part of the Hartford Catholic Worker Community," Allen-Doucot said. "His murals and giant street puppets have graced the Streets of Hartford where he can frequently be found riding his bike as he continues to make the world a more beautiful place."
Dwight Teal can be contacted at DwightTeal@hotmail.com